TO EARN REWARDS WHEN SHOPPING HAWAIIAN AIRLINES YOU NEED TO:
1. Log In Above.
2. Then click the "Shop Now" button on the page that appears.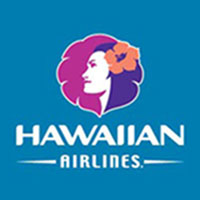 .48% Cashback
Hawaiian Airlines
Hawaiian Airlines is Hawaii's biggest and longest-serving airline and proud to be the only carrier flying between the U.S. mainland and Hawaii to offer complimentary meals during meal time in coach class.
Merchant Limitations:
$0.00 Rewards for booking your travel through Hawaiian Airlines .6% Rewards on Completed travel through Hawaiian Airlines