TO EARN REWARDS WHEN SHOPPING BEYOND.COM YOU NEED TO:
1. Log In Above.
2. Then click the "Shop Now" button on the page that appears.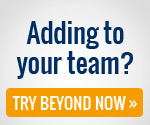 6.8% Cashback
Beyond.com
Beyond is The Career Network, focused on helping people grow and succeed professionally. By connecting job seekers and employers through 75 unique career channels and more than 1,000 industry and regional communities, we are changing the way job searching is done and helping people build relationships around the world. Through powerful communication tools and a personalized online Career Portfolio, members have a 24/7 online presence and access to job search functions, networking features, statistics and social and industry research.
Merchant Limitations:
Customer must post and pay for a new job posting to receive 8.50% Rewards.